Monica - R5P2 VLCD 2
R5 Starting weight: 166.5
Yesterday: 166.5
Today: 166.5 0
R5 Total -0

Nakia - R4P2 Day 7
R5 Starting weight: 229.9
Yesterday: 222.1
Today: 220.6 -1.5
R4 Total 9.3 4%

Well... here I am again, waking up my sleeping blog. I got on my Wii system yesterday morning and my Mii was asleep... LOL. I poked her with an HCG stick... ROFL. I took my first shot yesterday and we're off to the races!

I decided not to load since I gained enough last weekend at a family cookout in NJ to warrant load weight. I actually gained 6 pounds on that weekend. I managed to lose 2 pounds of that over the course of the week, but I was hoping to start this round at what my maintenance weight was all summer.... 161, but no dice. Hopefully that weight comes off quickly cus it's bugging the hell outta me.

Nakia actually took his first shot last weekend & he was loading then. I shared some of his load food with him too. Like this... no wonder I gained 6 pounds!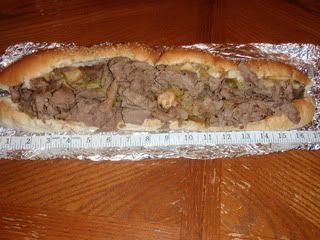 Well.... at least we each only ate half. In case you were wondering, this AWESOME cheese steak came from Gaetano's in Maple Shade NJ.

Well, I'm out. Getting late and I'm eager to get my 1st VLCD under way.

Missy - Thanks for stopping by. I don't tweet, but I'll certainly go by your blog. I've got some favorite P2 recipes throughout my blog and you can find some more if you join happilythinnerafter.com